If you visit my blog on a regular basis then you most certainly noticed the obvious...my awesome blog makeover!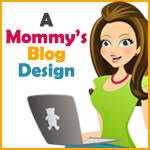 I love the new look of my blog! I feel it looks clean, fresh and relevant to the title of my blog. April is so talented and very easy to work with. I told her more or less what the vision of my blog was and she did the rest. She suggested the toy images, came up with the cute font and matching colors. I couldn't have asked for more.
If you are interested in giving your blog a new look, you should most definitely contact
April
. She does custom designs and has pre-made templates which she can customize for you fr a reasonable price.