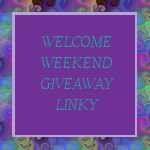 Anyone and everyone is welcome to post their giveaways.
Just be sure to include the name of the item and the giveaway end date.
Please, make sure to link up the giveaway URL.

If you don't have any giveaways to link up don't worry because you can still participate in as many giveaways as you wish!

In order to help everybody out, if you link up please try to enter at least one giveaway. I will most definitely enter as many giveaways as I think suit me and my family, unless it's a product for which I am also hosting a giveaway or have hosted in the past.

If you wish, you can help spread the word about Welcome Weekend Giveaway Linky by posting the button on your blog, writing a post, tweeting or via Facebook.